Fifa coins - Most expensive goalie ever
Liverpool and AS Roma have completed the transfer of goalkeeper Alisson Becker on Thursday. The Brazilian is the most expensive goalkeeper of all time.
AS Roma reports that Liverpool puts 62.5 million euros on the table for Alisson, which Gianluigi Buffon will pay off as the most expensive goalkeeper ever. Juventus deposited around 53 million euros in 2001 for the then keeper of Parma. The transfer fee of Alisson can still increase by ten million euros due to bonuses.
The 25-year-old keeper signed a multi-year contract on Anfield Road. He endured the medical examination earlier on Thursday and then completed all the formalities. Alisson is the fourth acquisition of the 'Reds' after Naby Keita, Fabinho and Xherdan Shaqiri.
Coach Jürgen Klopp says he did not have to think long about the arrival of the Brazilian World Cup-goer. "We had to do this, the price is of course determined by the market, we can not change that much as a club, but it shows how valuable keepers are."
The goalkeeper is also very happy with his transition to Liverpool. "It is a dream come true to play for such a prestigious club", he says on the website of his new employer. "This club is used to always winning."
Van Dijk
Alisson started his career at the Brazilian Internacional and in 2016 made the switch to AS Roma, where he signed a contract until mid-2021. At Liverpool he becomes teammate of, among others, Virgil van Dijk and Georginio Wijnaldum.
The 31-time international of Brazil came in two years to 37 competition matches and last year with the Romans reached the semi-finals of the Champions League, in which Liverpool was a size too big.
Last month Alisson with Brazil was active at the World Cup in Russia. The 'Divine Canaries' reached the quarter-finals, but were eliminated by Belgium. Alisson held the zero in three of the five games.
Because of the arrival of Alisson, Loris Karius seems unnecessary. The German was in the Champions League final against Real Madrid twice in the wrong.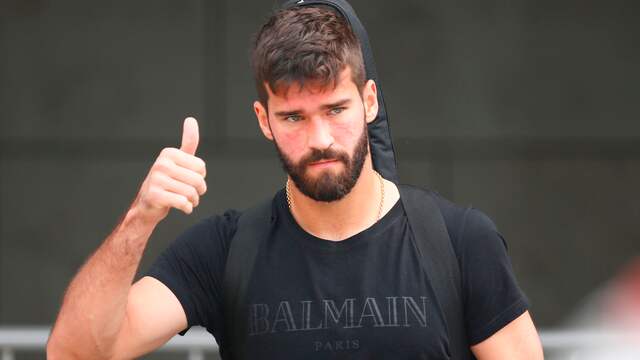 TO RECEIVE FIFA COINS, COME VISIT US! FIFA 19 COINS WILL ALSO BE SOLD WHEN THE GAME IS RELEASED. FIFACOINS.COM